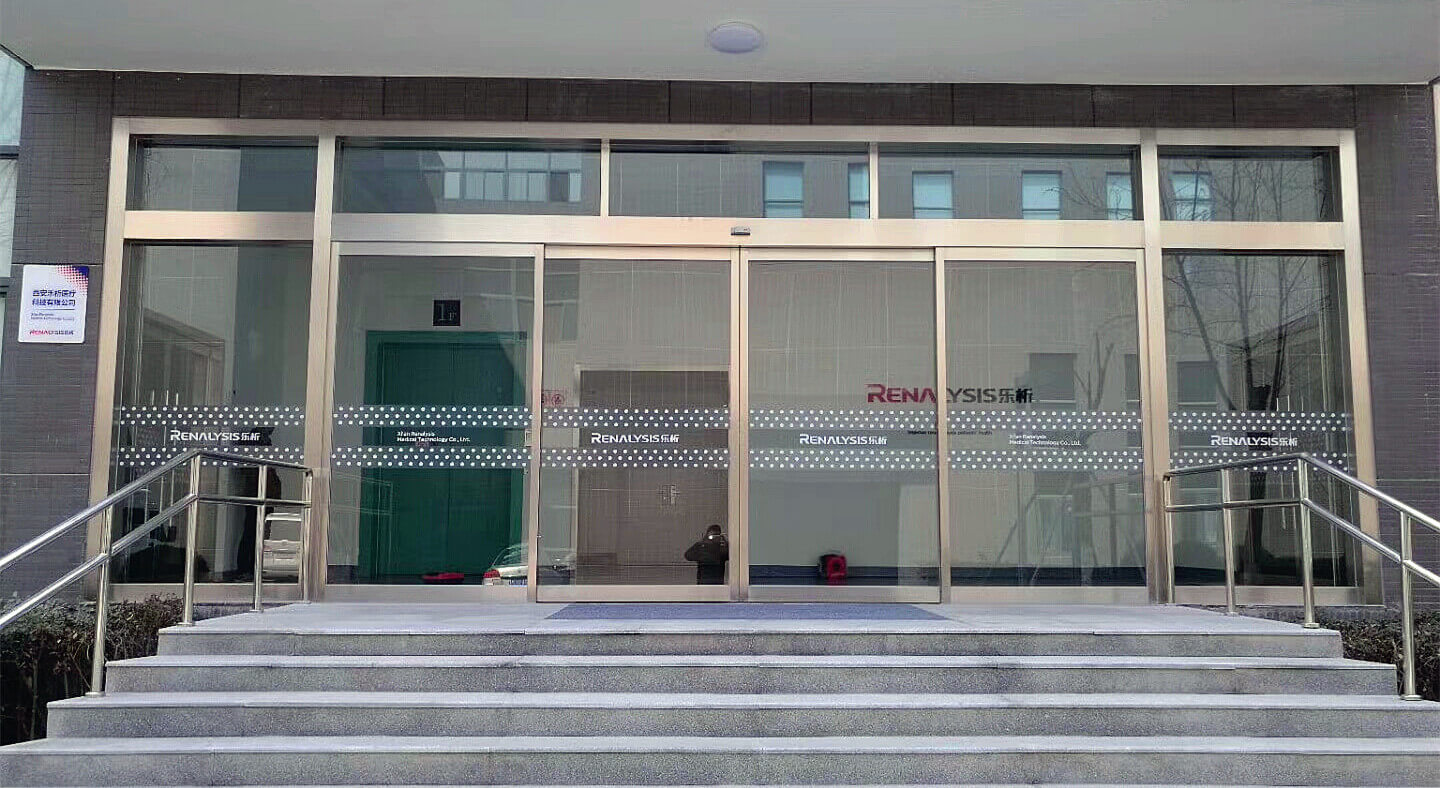 Sales: [email protected], WhatsApp: charles_caesar

ES200 Basic Control Module (BM)
For ES200, CSD, DSD operators

EC Control Module KLESE-EMV
For Caesar operator EC100 & EC200, SLM

ES200easy Basic Control Module (BM)
For Caesar operator & Dorma operator

ES200 Mini Drive Unit (MDU)
For Caesar operator & Dorma operator

EL100 Control & Power Module
For Caesar EL100/90 & other economic operators

DCU110/100 Control Module
For EC/Power drive sliding door operator

Dunker motor GR 63×55
Switch power unit, integral lock, FM functional option
Carry weight 2 x 160 kg, 1 x 200kg
Warranty: 2 years
Project solution: Graphic design, 3D model design, Solution for project
Leading time : Quantities(set) 1-10, leading time 7 days (To be negotiaed)
Sales: [email protected], WhatsApp: charles_caesar
Since the mid-20th century, automatic door controller for building purpose has grown
increasingly common. Indeed, they are using in many countries nowadays, and it
is expected in many residences: doors open and close automatically. These doors
are used as welcoming and inclusive entrances in groceries, restaurants, auto
repair shops, government buildings and schools. They can also be modified at a
low price.
Automatic sliding door controller has also become the people's choice. Its popularity is
rapidly increasing day by day as they are an excellent way to revitalize and
enhance your home area without having to spend your leg or arm. They also
provide a smooth, natural transition between indoors and outdoors, bringing the
outdoors into your house and taking your home outside. And more importantly, sliding
automatic doors are responsible for taking care of your form any security issues.
Products
Caesardoor is the world's leading maker of automatic door controllers, using Brush DC
servos with embedded electronic control devices. By working with and being authorized
by Dunkermotoren, our EC100 automatic door controller and ES200 automatic
sliding door controllers have acquired CE and RoHS certifi cations.
So you will not have to scramble to find the most refined automated door
controller for your home or workplace; we've got you covered, and all you have
to do is get in touch with us.
This article will discuss the characteristics of the EC100 automated door controller
and the ES200 automatic sliding door controller. Let's discuss further!
Features: EC100 Automatic door Controller
·         Quick Access To Everyone
Automated doors may be accessed without arms; they are convenient for anybody, even
holding two bags or a cart. Automatic doors are commonly utilized in
high-density areas such as office properties, restaurants, and community spaces
to demonstrate care and exceptional customer service.
·         Barrier-Free
EC100 Automatic doors give outstanding customer service by enabling anyone to access
effortlessly regardless of age or physical ability. Automatic doors for Intra
restrooms are widely suggested in public spaces such as subway stations and
municipal halls.
·          Energy Conservation
EC100 Automatic door controllers help you save resources and costs by lowering yearly
heating and air conditioning expenditures. Doors were open only once triggered
and shut automatically to prevent doors from becoming opened. They also keep
external air and pollution out and keep air conditioning from leaking.
·         Hygienic Control
Automatic doors with palms operation are ideal for clinics and food processing plants
where hygiene is critical. By raising the airflow in the area, an
EC100 automatic door via a wind function may also keep dust and filth from
entering, making it ideal for operating rooms and other regulated settings.
·         Installation
Building systems like the emergency route system, security system, buildings information
systems, and RWA control panels are frequently connected with automatic door
installations. This allows for centralized monitoring and controlling of all of
these systems, improving property management performance.
·         Safety
Although automated doors are meticulously engineered to assure safety, there are always
dangers from the installation stage through everyday use. As a result, it is
critical that all key parties, such as landowners, designers, and others,
understand and cooperate to offer everybody with secure and simple entrance.
·         Protection against fire and Adequate emergency exits
In an urgent situation, automatic doors provide protection owing to smart devices
and technologies. In a fire or if fog arises, doors utilized as fire safety
doors must shut adequately. Automatic doors must be fitted with a fail-safe
releasing stimulus producer if a corridor is designated an evacuation and
rescue route. This guarantees that the door opens within a few moments of
someone being prompted or after a power outage, allowing for safe exit and
rescue pathways in the emergency.
·         EC100 (SLM) automatic door control board/KLESE control box
(Universal Gilgen SLM KLESE control box/Gildor Control Box, service part for SLM automatic sliding door and SLM telescopic door maintenance and repair.)
Intelligent microprocessor control unit of EC100 automatic door opener, which is perfect compatible with Kaba SLM or Gilgen SLM KLESE control box (Gildor Control Box), automatic self-diagnostic, self-monitoring operating sequences and low-noise features optimized traveling characteristics.
Alternative option for Gilgen SLM series automatic doors or telescopic doors maintaining and repairing service.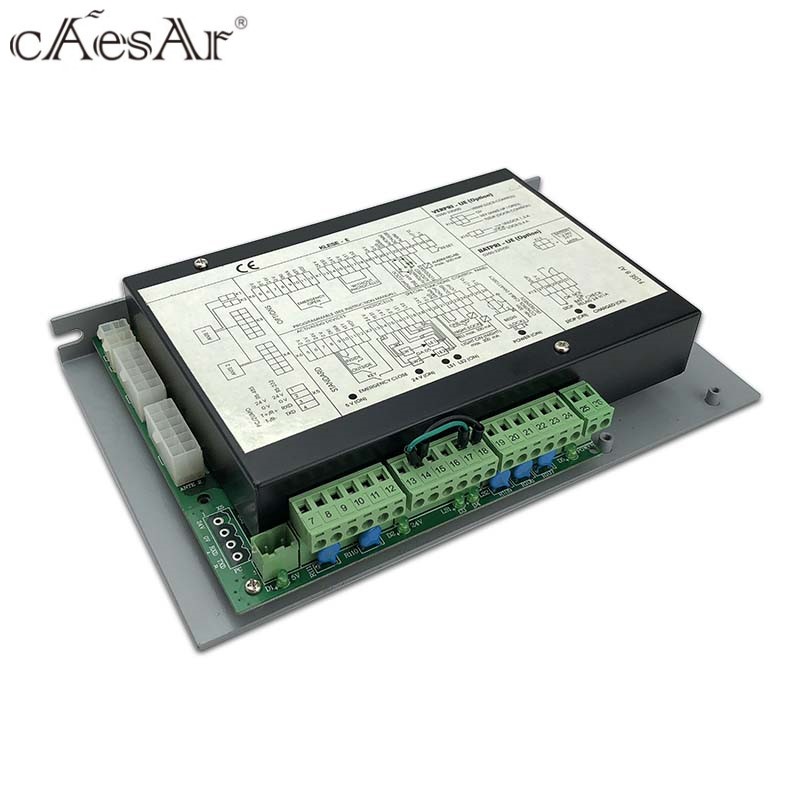 Features: ES200 Automatic Sliding Door Feature
·         Provide Safety and Security
ES200 automatic sliding door controllers are now composed of toughened glass that is nearly impossible
to shatter. We can also supply a shatter-resistant safety glass level. They are hard to break in. Keep in mind that most burglars want to make as little noise as feasible while breaking into a house. Sliding doors are constructed so that breaking in requires the time and effort of shattering the whole door. This is
almost unachievable with higher-grade glass. Because of its construction, there
are no "ingenious" techniques to get into a sliding door. Most criminals will be put off by the prospect of getting into a sliding door since they prefer easy prey.
·         Multi-Function Controller
It's an LED-displayed microprocessor controller and offers various functionalities that you may
customize to meet your requirements. The self-learning microprocessor control
provides dependable operations, synchronized motion intervals and meets and
exceeds stringent safety standards.
·         Easy Access
ES200 automatic door controllers provide quick access as all you have to do now is move the door
laterally, and it will open wide, giving you accessibility to the outside. They glide effortlessly down their tracks, especially if you follow up with the low hassle required to keep them going smoothly.
·         Motor Mechanism
The motor mechanism is responsible for storing power and distributing it to the belting that assists
in the movement of the doors. An extra drive connects them and helps manage the amount of energy applied to the belts.
·         Optical Sensor
The sensor notifies the motor mechanism when it's time to release the power. When somebody reaches the door, the optical sensor, also known as a motion sensor, detects them and activates the motors. Based on the type of door your property employs, these detectors can also be fitted as trap doors.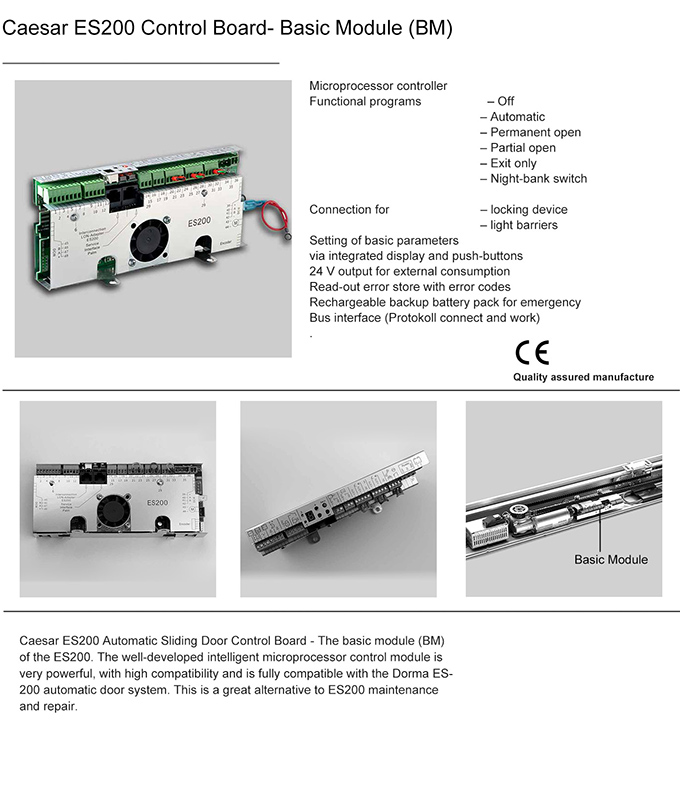 In a Nutshell
Finally, we've put up the following, which outlines all about our products in great detail. Let us change
your opinion regarding our services if you have any doubts about it. Without question, our automatic door controllers are the best in the world. We are recognized as a reputable provider of automated doors and operators. We also have specialized machinery and skilled workers that can make high-quality,
low-cost products. So, what are you waiting for? Contact us right now to purchase our EC100 automated door controller or ES200 automatic sliding door controller.