You are more likely on this page because you are searching for top automatic curved sliding door suppliers—-there are so many of them online.
And almost all will promise you a quality product, competitive prices, and secure shipping services that match your desires.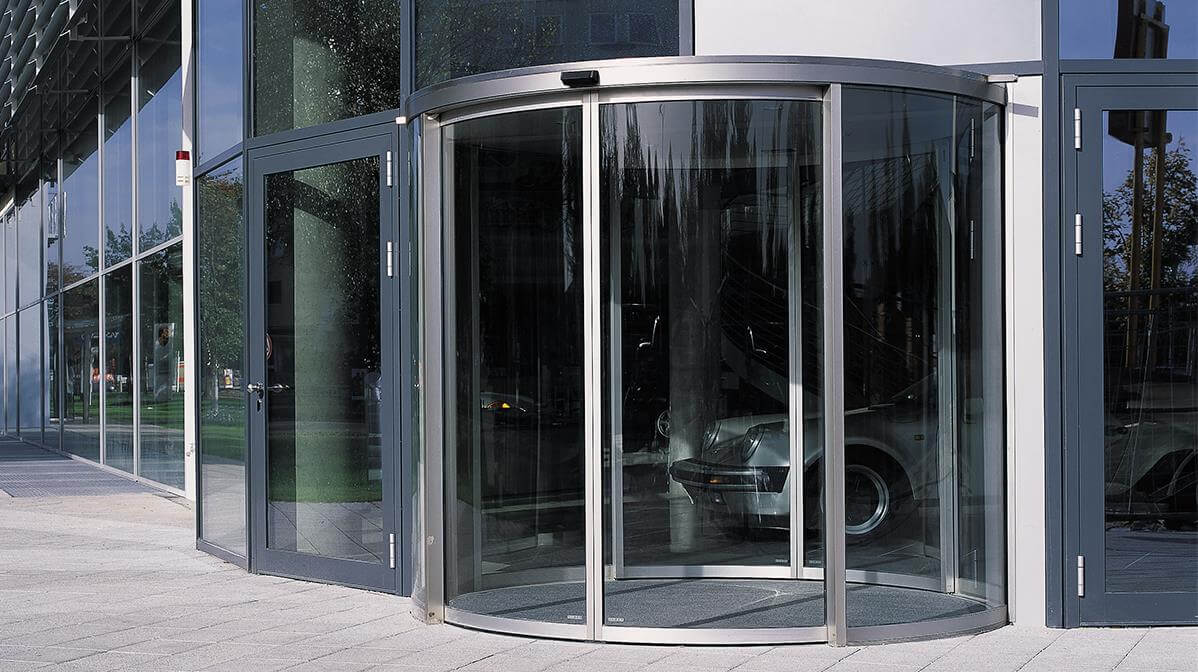 But unfortunately, in reality, many of these suppliers don't offer as much as they promise. There are also stories of 'what I ordered versus what I got' in the sliding doors niche.
You sure are already asking "how then can I know the best supplier?"
Well, you are lucky to find this page—this article discusses the top five tested and trusted automatic curved sliding door suppliers. So you don't have to undergo the stress of finding a supplier yourself.
Furthermore, this guide discloses their attributes, pros, and cons to help you decide the best place to purchase your automatic curved sliding doors for your building project.
So, who are the best five automatic curved sliding door suppliers?
Caesar Doors comes first on the list due to its top-quality products.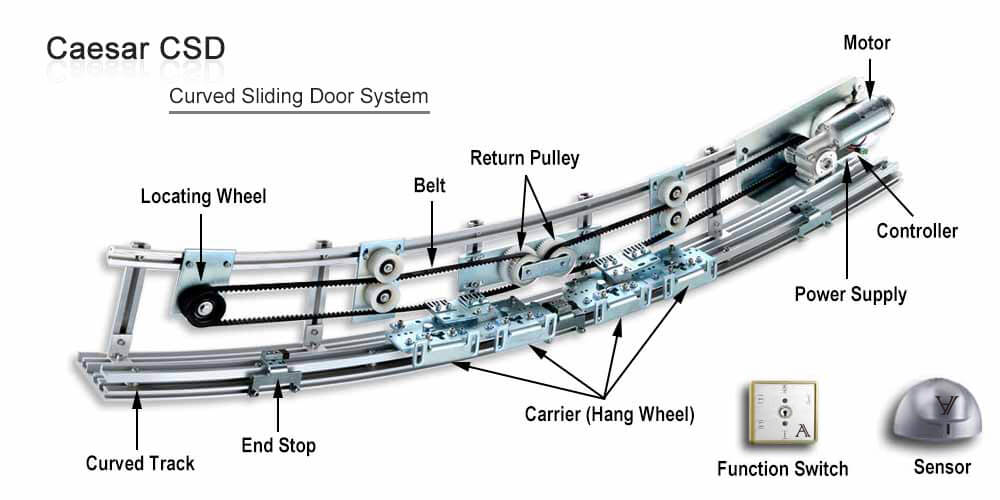 Located in Guangzhou, China, the Caesar Door Company is a go-to option for anyone looking for automatic curved sliding doors suitable for all building projects.
Their competitive prices and top-class designs distinguish them from other automatic door suppliers.
Caesar Doors Features
Caesar Doors Company understands there's no reason to spend so much on doors that won't stand the test of time. Hence, they ensure their products feature the highest-quality materials.
You can count on them for durable, reliable, and energy-efficient doors that can withstand heavy traffic or usage.
Swift Customer-oriented Service
Caesar Doors Company doesn't just have attractive doors but also boasts swift and dependable customer service.
Their employees and staff are always available to attend to everyone who places an order online or visits their physical store in the country.
Apart from their loyal staff, Caesar Doors' team of experts also delivers consultation, planning, installation, and maintenance services based on your needs.
Caesar Doors believe that security is every door's primary function. This explains why their doors feature an advanced sensor.
With this feature, Caesar Doors' automatic curved sliding doors guarantee maximum protection against theft and intruders.
Caesar Doors Company is a go-to automatic curved sliding door supplier if you need aesthetic doors that match your fashion sense.
They offer different sleek and durable curved sliding doors, including CSD-5M and CSD-6M, suitable for restaurants, boutiques, residential buildings, and other apartments.
Impressive Brand Reputation
Caesar Doors Company has successfully built a laudable reputation over the years.
Being in the industry for over a decade reflects their wealth of experience, expertise, and values.
Similarly, customer reviews and comments also show how much people rate their products and services.
Relevant organizations such as the Door and Hardware Institute (DHI) approve Caesar Doors Company as a legal automatic curved sliding door supplier.
Pros
Caesar Doors products carry a two-year warranty, which means you can return them if they undergo damage within the time frame.
However, you can't trigger the warranty policy if you are responsible for the damage or destruction.
Cheap Customization Service
Their door technicians will customize the doors to suit your style and appearance. Meanwhile, the customization service is cheap and affordable.
Distance isn't a barrier with the Caesars door, thanks to their safe and secure shipping services.
You will get your purchased doors without a scratch or damage, regardless of location.
As much as Caesar Doors aren't the cheapest door provider in the industry, their pricing policy is better than many other companies.
Be rest assured you will get value for your hard-earned money when you purchase their durable and attractive doors.
Cons
No Physical Store Outside of China
Here's the only setback to the Caesar Door Company automatic curved sliding door suppliers.
They don't have branches outside China, meaning you will rely on their shipping services to patronize them.
Nonetheless, there's no reason to panic. Their delivery service is fast and affordable.
Dormakaba
Dormakaba is a company formed when Dorm (established in 1908) and Akaba ( created in 1862) merged in 2015.
They are one of the world's biggest automatic curved sliding door suppliers. Their branches are scattered across 60 countries, offering quality doors to everyone.
Pros
Utmost Convenience and Security
You can be sure of obtaining maximum convenience and security from the Dormakaba doors.
Their doors help to prevent foot traffic congestion due to their smooth and fast mode of operation.
Multiple Available Options
With Dormakaba, you have multiple options for your companies and business place.
The company ensures easy accessibility, thanks to its numerous branches.
Walk into any nearby branch and purchase your product at a spot. You can equally hire their installation service if you are financially capable.
Cons
Dormakaba automatic curved sliding doors are arguably the most expensive products on this list.
Suitable For Commercial Buildings Only
The Dormakaba doors aren't the best option for residential homes.
Their products are designed for airports, hotels, office buildings, and other commercial properties.
 Limited Customization Services
Dormakaba's experts and door technicians offer only a little customization service to customers.
Stanley Access Technologies
Stanley Access Technologies come next to Dormakaba in terms of quality and class.
With over 20 years of experience, Stanley Access Technologies is undoubtedly one of the industry's top five automatic curved sliding door suppliers.
The America-based company offers sleek and durable doors to provide top-notch security to residential homes, companies, or offices.
Pros
Stanley Access Technologies offer different door designs, styles, and color.
Like the Caesar Doors, Stanley Access Technologies helps customers customize doors to give a unique shape and appearance.
Their automatic curved sliding doors won't get damaged too soon as they possess quality materials that can withstand pressure.
Cons
You can't easily detect the warranty on their products.
We checked their websites to know the warranty but didn't see any related information.
We eventually discovered that you need to visit the company's local representatives to know whether their products feature a warranty.
Here's one of the company's greatest undoings. Stanley Access Technologies'  automatic curved sliding doors are more expensive than most companies on our list.
We can't discuss the top automatic curved sliding door suppliers without mentioning Assa Abloy.
The Swedish automatic door provider was established in 1994 and has been a household name in the industry.
Like Dormakaba, Assa Abloy has different branches in more than 70 countries.
Features
The Assa Abloy automatic curved sliding doors possess all the features of quality and well-designed doors, such as convenience, accessibility, and beauty.
Pros
Different Aesthetic Finishes
Their doors possess modern accessories to beautify homes and business places.
Best Option For People Living With Disabilities
Assa Abloy's automatic curved sliding doors comply with ADA (Americans with Disabilities Act) requirements.
People with physical disabilities can use their doors without any problems.
Cons
Assa Abloy products command high price tags. They are a no-go area for people with tight or low budgets.
There Are Not Suitable For Residential Homeowners
Residential homeowners should target other doors because the Assa Abloy doors are incompatible with their purpose.
GEZE is a famous automatic curved sliding door supplier in Germany.
They remain one of the world's first automatic door suppliers with over 170 years in the industry.
The company focuses on creating doors, technology systems, and windows.
Features
GEZE's automatic curved sliding door systems contain most of the features above, including advanced sensors, certifications, and laudable experience
Pros
GEZE products are known for their less energy consumption. You don't need excess energy to power automatic curved sliding doors supplied by GEZE.
Here's another reason many CEOs prefer GEZE products for their companies and commercial buildings.
Door technicians don't need much time and energy to install GEZE doors.
Like Caesar Doors, GEZE supports multiple customization options.
Their team can install more sensors for better security or write your company's name on the door depending on your preferences.
Cons
GEZE automatic curved sliding doors aren't compatible with many building systems.
The doors are built to function effectively with other GEZE building systems.
Therefore, you might be unable to use the GEZE doors for your home, even if you are financially buoyant to shoulder the steep costs.
Though quality automatic curved sliding doors are generally expensive, the prices of GEZE's products are exorbitant.
Their doors are costlier than Caesar Doors and Stanley Access Technologies' products.
Unfortunately, it's not an option for low-salary earners.
Wrapping up
It's safe to say that Caesar Doors Company remains the best place to get your automatic curved sliding doors, considering the features, pros, and cons above.
Their two-year warranty allows you to change any damaged doors, while their consultants will help you choose the right door for your home.
Visit their website to check their product catalog. You can equally contact Caesars Doors technicians for their advice and consultations.