With the advent of the 5g era, the Internet is more deeply and widely used, as is the case in automatic doors, Caesar automatic doors took the lead in opening up a new world. The application of automatic door in the Internet is mainly divided into two parts, one is to control the operation of the automatic door through the Internet, the other is to monitor the running status of the automatic door through the Internet, and collect data.
1. Caesar automatic door can be controlled by mobile phone and wifi local area network, or through wide area network, which can control the automatic door remotely and control the running state of the automatic door, such as automatic mode, local opening mode, one-way access mode and so on. Through the corresponding
2. management program and software, Caesar automatic door, which is linked to the Internet, can track, monitor and collect the data, and then analyze and sort out the data, so that the effective information data such as market real market, social humanities and management can be obtained.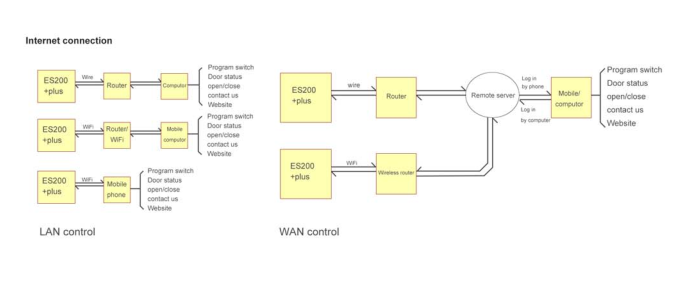 We are in a technologically advanced world
hence getting to know about mobile phones, smartphones, other functioning, and
wearable electronic devices. It wouldn't be surprising if a mobile access
control system for automatic doors exists.
What Is a Mobile Access
Control System

Mobile access control system functions duly by
integrating mobile phones, tablets, and other handy and wearable mobile devices
with some key details and credentials of the users. In most business
organizations and facilities, this has become a trend. Most employees are
encouraged to bring their devices which in turn supports the current Bring Your
Own Device (BYOD) trends. This trend is quite contrary to what was in place
once upon a time where employees are usually discouraged from bringing their
own devices to workplaces because it was believed to be a form of distraction.
How Does Mobile Access Control
Work?

There are different methods through which
mobile access control can function. One of the commonly used methods is the use
of Bluetooth pairing. Bluetooth has a distinct signature attached to it. Hence
once a pairing is complete, it automatically gives the user access. As
technology has evolved, Bluetooth manual pairing has become outdated as
technology like Bluetooth Low Energy (BLE) technology automatically gets it
done. All that it needs is just for the mobile device to be within a few feet
of connectivity.
Mobile access control is also built on a
bigger and more modern technology known as NFC, Near Field Communication. It shares
similarities to the Bluetooth mode of operation. It has certain limitations
though. Compared to Bluetooth that allows connectivity just a few feet away,
this NFC makes sure the device is just a few inches away.
The benefits of mobile access
control system

With the implementation of mobile access,
there are a lot of benefits to be enjoyed by organisations. Some of these
benefits are discussed below:
Cost-effectiveness
It saves employees the stress and cost
associated with installing biometric readers and even printing and distributing
identity cards for their employees.
Convenience
of use
Mobile devices are something almost everyone
owns. So, making use of it as a means of access is a very convenient option. It
has also eradicated chances of forgetting passwords or denial of the entrance
because of the absence of ID cards.
Why choose mobile access
control system for automatic doors

● Mobile access control systems can be integrated for multiple access
purposes.
● It eliminates the era of Identity cards.
● All processes involved are automatic.
● It saves time, resources, and energy.
● It provides extra layers of security.
You can reach out to us at Caesar to get
mobile access control systems for automatic doors integrated into your business
organization or even your homes. In addition,
we can provide you with answers to confusing thoughts.